The Blue Chequered Harlequin

This is the first book written by Francis Kruckvich. It began as a poem he wrote while he was still in college. The poem was inspired by his love of music, and also by his brother who was mentally handicapped since birth.
After college Francis Kruckvich began to experiement with sketches to accompany the harlwquin poem. He had written many poems, but this one was different. It told a story. Twenty years later, that poetic story became his first book. Once the book was finished, he asked himself, "Why stop here?" Since then, he as written several books.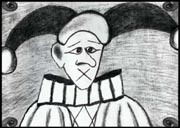 The theatrical harlequin character began in Medieval Europe as a sort of demon and later evolved into an agile romantic hero. However, the character is also a clown. The Blue Chequered Harlequin was patterned in the style of Commedia dell'arte and Shakespearean theater.
If you haven't guessed, the Blue Cherquered Harlequin has blue checkers on his clothing as a symbol of depression and sadness. He is sad because people make fun of him and he has no friends. He finds comfort in his music and, just like a rock star success story, this ultimately earns him social status. The "chequerd" spelling is the British variant of "checkered", again used in this story to go along with the Shakespearean style.
On the silver screen...
The Blue Chequered Harlequin has been made into an amimated short film, and has it's own IMDB page. You can watch the trailer on YouTube.
From Zero to Hero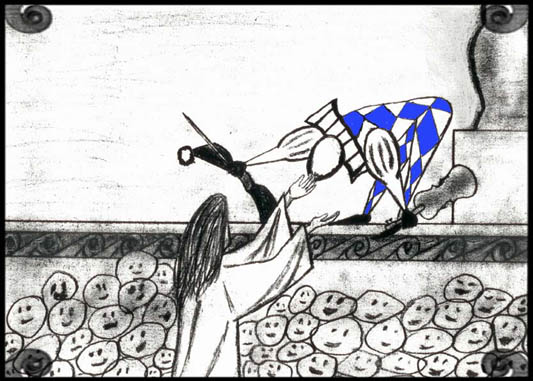 The Blue Chequered Harlequin has been kicked around allo of his life because he was different and had a handicap. All that changed after a respected man praised him for his music.
He is a man, still... and one of great skill.
If no one else will admit it, I certainly will!
.
Buy the book!